Guma Valley Water Company and other implementing partners under the Freetown Water Supply and Sanitation Master Plan and Investment Studies Project have on Friday 8th October, 2021 concluded a 2-day workshop on Integrated Urban Water Management held at the New City Council Building at Wallace Johnson Street, in Freetown.
In his welcome statement, the Minister of Water Resources, Ing. Philip K. Lansana said urbanization is a challenge and climate change impacts such as reduced or increased rainfall, flooding and storm surges, are putting a strain on urban water systems worldwide. He continued that as efforts are being made to expand the water infrastructure networks to meet demand, more focus is placed on developing cohesive integrated urban water management (IUWM) strategies to ensure a more secure and resilient water future.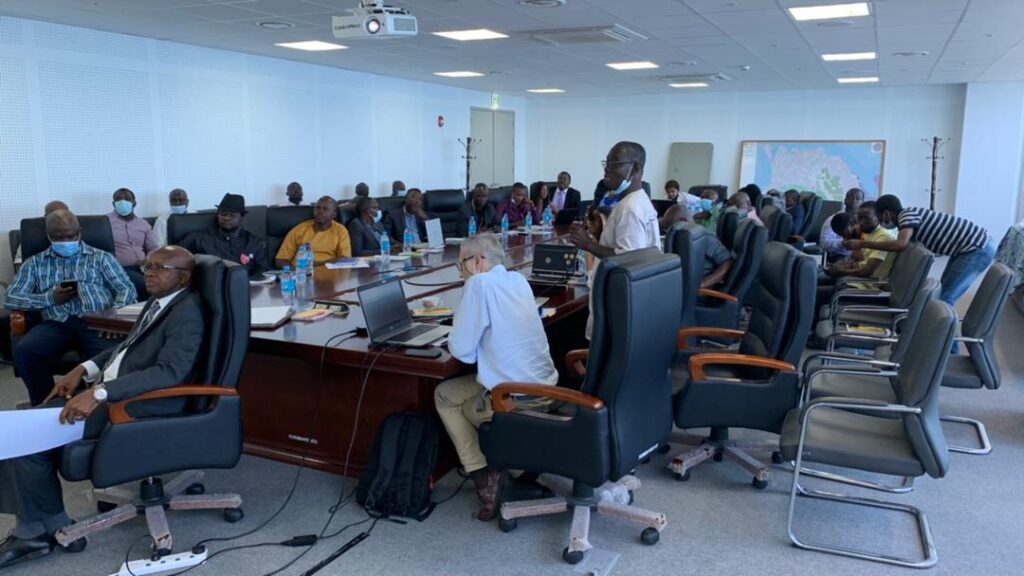 Minister Lansana added that with dramatic water cycle changes expected in the coming years, the traditional and fragmented approaches to water resources planning are simply not good enough; "It is clear, only by integrating the management of source water, storm water, wastewater and drinking water can city leaders, urban planners, water utilities and other stakeholders address our urban water challenges".
The Deputy Managing Director, Guma Valley Water Company, Ing. Francis Lahai informed participants at the workshop that the concept of Integrated Urban Water Management is embedded in the Freetown Water Supply and Sanitation Master Plan and Investment Studies.
Ing. Lahai said the project will allow the Government of Sierra Leone to attract funds for sustainable infrastructure investments and that it is consistent with related national strategies in Sierra Leone.
He said the project will permit Guma Valley Water Company and other development partners to prioritize investments in water supply and sanitation and related Integrated Urban Water Management (IUWM) aspects to maximize effect and efficiency in the water and sanitation sector.
Ing. Lahai furthered that the project's immediate outcomes will contribute to improved livelihood and sustainable human development through reduced water borne disease incidence and infant mortality. He said the project will provide three main outputs: (i) An established IUWM co-ordination mechanism is operational, (ii) Freetown Integrated Water Supply Master plan is enacted, and (iii) Prioritized and medium-term investment projects are prepared.
Ing. Lahai stated that the total duration of the project is 30 months with a cost amount to Euro 2,972,570 and is funded by the Netherlands Development Agency, African Development Bank, Foreign Commonwealth Development Office (DFID) and the Government of Sierra Leone.
Ing. Lahai said that the overall goal of the project is the preparation of an effective and efficient short- and medium-term investments into the water supply system of Greater Freetown. He added that the project's immediate outcomes will be twofold: 1) activities in and related to water resources management in Freetown are being coordinated among relevant stakeholders and 2) Investments for Greater Freetown Water Supply and Sanitation Improvement and Expansion can be mobilized.
Giving an overview on the concept of Integrated Urban Water Management, the Consultant, Luís Silveira Silva, Water Supply Engineer and Deputy Project Manager of COBA, said that IUWM is just like people, when systems talk to each other, the outcome is almost always better. He added that IUWM can be described as an approach that integrates water supply, sanitation, as well as storm and wastewater management with land use planning and economic development.
He continued that IUWM creates many benefits, including enhanced quality of life, improved resilience to climate change, optimized local economic growth and increased opportunities for water. He said the idea of IUWM also aligns with Goal 6 of the United Nations Sustainable Development Goals (SDGs). Specifically, target 6.5 of Goal 6 indicates the need for UN member states to implement integrated water resources management at all levels by 2030 to meet the universal access goal.
Over the course of the two days workshop, participants discussed topic ranging from need for IUWM coordination, roadmap and setting up of IUWM Technical committees, the roles and expertise and proposed participants in each technical committee.
At the end of the 2 day workshop, five technical committees were agreed on; Water Resources and Water Technical Committee, Sanitation Technical, Storm Water and Climate Change Technical Committee, Recycling Research and Innovations Technical Committee, and Energy and Urban Development Technical Committee.
The Consultants also proposed the establishment of an Integrated Urban Water Management Coordinating Unit to be supervised by the Minister of Water Resources to coordinate the activities of all the proposed technical committees